SPONSORS
We are grateful to the following partners for their support of Savile Row: Inside Out
Huntsman
With a team of experienced cutters, tailors, finishers and a presser, Huntsman hand-cuts and hand-tailors all of its clothing in-house at 11 Savile Row, ensuring that the highest standards are maintained at every stage. More than 80 hours of workmanship go into creating each garment, with skills being passed on through generations.
Since 1849, Huntsman has dressed a veritable Who's Who of customers, from European royalty and heads of state to stars of stage and screen on both sides of the Atlantic. The firm first visited the United States for its trunk shows almost a century ago, with the pattern for regularly visiting our patrons on the east and west coasts continuing today. The company houses more than 80 ledger and visitors' books, as well as patterns and photographs, all testifying to a fascinating customer history. This rich heritage and inspiring client portfolio has ensured Huntsman's success and deserved reputation: a supreme tailor that continues to create iconic clothing in the distinct Huntsman house style.
Huntsman uses tailoring techniques that have remained unchanged for hundreds of years, much like its values; the firm's hands-on passion to tailoring remains at the very heart of the business.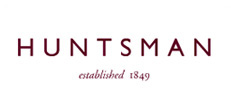 Chivas
Chivas is a blend of many different malt and grain Scotch whiskies, matured for at least 12 years. Since 1801 this rich, smooth blend balances style with substance and tradition with a modern twist.
Chivas and Savile Row Bespoke Association have come together as partners to continue to support and celebrate heritage, modern craftsmanship and style. Over the course of the year, they are joining forces to develop events and activities to inspire appreciation for the art and heritage of tailoring, and the craftsmanship and heritage of Chivas.