FOREWORDS
Savile Row and America, an enduring partnership
Nick Foulkes, Curator of Savile Row and America: A Sartorial Special Relationship
At the end of January this year, Pierre Lagrange, Chairman of Savile Row Bespoke Association asked me if I would care to curate an exhibition of Savile Row clothing in Washington, D.C. I am still unsure as to whether it was wise to accept. However, such is my respect for the history, the craft skills and the culture
of this world-famous London street that when Savile Row calls, I have a hard time saying no.

Savile Row is one of the unique things that makes Britain, a small, damp, post- imperial island off the northern coast of mainland Europe, truly great. A Savile Row suit is a distinguished object, a stroke of sartorial shorthand for taste and refinement. More than the name of a single London street or even a neighbourhood, Savile Row is an internationally renowned brand — two words that mean the same thing in every language; two words with the power to summon up a world of craftsmanship and elegance.

So it was with a mixture of pride and (a rare quality for me) humility that I set to work producing a show that I have called Savile Row and America: A Sartorial Special Relationship. It is an exhibition dedicated to the men and women past, present and future, without whom Savile Row would be just another street among many.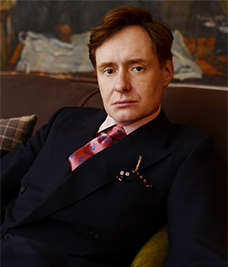 A Message from Sir Peter Westmacott, British Ambassador to the United States
Eight years ago when I was Her Majesty's Ambassador to France, we decked
 out the magnificent 18th-century residence in Paris with a display of historical and contemporary British bespoke menswear and French haute couture to celebrate the excellence of Savile Row tailoring. Since Washington is every inch a suited
city, where appearances matter, it struck us that our fine 20th-century residence on Massachusetts Avenue was tailor-made for a similar show.
Savile Row is the birthplace of sartorial inventions, like James Bond's tuxedo, that have forever altered the landscape of fashion. Today, a new generation of tailors is energising the industry, honouring their heritage while applying contemporary technologies to the finest fabrics and styles to win admirers worldwide. Today, Savile Row is a vital part of the thriving British fashion industry, worth £26 billion ($39.5bn) to the British economy in 2014 — and it is rapidly expanding around the globe.

When I got a job after leaving college, the last thing my father did before taking me off the payroll was buy me a decent suit. I remember it well: a hand-made three- piece pinstripe by John Bedford of Bristol costing £69. Forty years on, it would cost a bit more, but it gave me good service and lasted long enough to be worn on occasion by both of my sons. I haven't forgotten the experience — wearing a nice suit makes you feel special. Today I wear everything from made to measure Chester Barrie to Marks & Spencer off-the-peg, because a good British suit is always well made and a pleasure to wear."

Savile Row Bespoke is very grateful to Sir Peter and Lady Westmacott for their generosity in hosting Savile Row and America: A Sartorial Special Relationship.